AN EVENING FROM THE 18TH CENTURY

Boston Brass Series BB-1007CD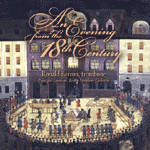 A recording of the famous 18th Century concertos of Wagenseil and Albrechtsberger, surrounded by duets by Albinoni and Michael Haydn all recorded with orchestra in Symphony Hall in Boston. Featuring, in addition to Ronald Barron, James Sommerville, principal horn of the Boston Symphony in the Haydn, and Darren Acosta of the Boston Pops Orchestra on alto trombone in the Albinoni. Famous trombone soloist and conductor Alain Trudel leads "The New 18th Century Players" which includes members of the Boston Symphony.

CD CONTENTS

Concerto a Cinque Op. 9 No. 9 (1721): Tommaso Albinoni (1671-1751)

Concerto: Georg Christoph Wagenseil (1715-1777)

Concerto (1769): Johann Georg Albrechtsberger (1736-1809)

Concertino in D (1767): Johann Michael Haydn (1737-1806)

REVIEWS

The Trombonist, magazine of the British Trombone Society, Spring 2005, pp. 46-47

This is an interesting collection of 18th century instrumental pieces made all the more intriguing for us by featuring the trombone playing of Ronald Barron, principal trombone of the Boston Symphony Orchestra. Mr. Barron has long been a feature in our fraternity as a dedicated and enthusiastic promoter of excellent performances with the Boston Symphony Orchestra and as an indefatigable solo performer.

The evening of nostalgia begins with "Concerto a Cinque" by Albinoni. As the program notes tell us, trumpet players have often adopted these Albinoni concerti, particularly those for solo performers. There being nothing for trombone from the pens of Vivaldi or Albinoni it seems only natural for trombonists to borrow some of them as well. The notes have already told us that these concerti were originally written for oboe, strings and continuo but we are then assured that nothing is changed from the original in this recording except that 'the solo parts are one octave lower'. Whether or not a purist would complain is another matter but as far as we trombone freaks are concerned we are not too shy to adopt whatever seems to work for us. As William Booth reportedly said: "Why should the devil have all the best tunes?"

With the Wagenseil Concerto we are on more secure ground in that it has been credited as having been composed for trombone and it proves itself in these two movements as being eminently effective on our favourite instrument.

The Albrechtsberger Concerto has long been a personal favourite of mine. Listening to it again brought back memories of youthful struggles on an old tenor instrument and then later, helping students to familiarize themselves with a newly acquired alto trombone by using this apparently original composition for that instrument. The composer was Viennese who studied briefly with Beethoven and was highly regarded by Joseph Haydn. His pedigree is amply reflected in the originality and suitability of the way in which he uses the instrument here.

The less celebrated younger brother of the great Joseph Haydn, Michael Haydn, is represented in this program by an Adagio and Allegro from the Concertino in D dated 1767. The slow movement shows the instrument to great advantage and the quicker movement dances happily along in a jolly and eminently suitable climax to the 'Evening' but I wonder if the sudden rallentando style used in the cadenzas enhances or detracts from the closing contribution. In either event, the energetically enthusiastic skills of all the performers remain safely intact.

I make no claim to being a historian but perhaps an 'early music' specialist might feel that more effort to recreate the style, sound, and perhaps even the instruments used in the 18th century might have enhanced this brave and interesting venture even more successfully.